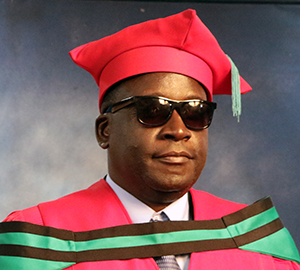 Conducting research into an inclusive framework for ODeL contexts, Thomas Ongolo, a Disability Expert Advisor at the Africa Union Commission (AUC) who is visually impaired, recently obtained a PhD in Curriculum and Instructional Studies at Unisa.
Supervised by Prof Mncedisi Mphalala, Dean of the Faculty of Education at the University of Zululand, and co-supervised by Prof Sindile Ngubane-Mokiwa of Unisa's Institute of Open and Distance Learning, Ongolo's thesis is entitled An analysis of policies guiding the design and delivery of an inclusive curriculum at an open distance e-learning university.
Disaster kick-starts an impressive journey
Ongolo says that being blinded in an explosion at the age of 15 completely changed his life. Courtesy of strong family support he completed his schooling and went on to complete a BEd in Arts at the Kenyatta University in Kenya, and later, when he was based in Cape Town, an MPhil in Disability Development Studies at the University of Cape Town. He is currently a Disability Expert Adviser at the Africa Union Commission in Ethiopia, providing policy and strategic guidance in the implementation of the inclusive AU Agenda 2063 and the Africa Union Disability Architecture.
Short course leads to greater things
Asked why he chose Unisa to guide his research, Ongolo explains that a short but serendipitous first encounter with the university led to his eventual PhD enrolment. 'Our offices relocated to Pretoria, and while residing here I was involved in a project requiring performance auditing,' he says. 'I learnt that Unisa presented a short course in performance auditing and enrolled for that. During the six-month duration of the course I observed first-hand that Unisa's learning support, particularly of students with disabilities, was second to none. Added to this was the fact that my field of research, dealing as it does with inclusive curricula in open and distance e-learning (ODeL), fitted Unisa like a glove. The university moreover has an excellent policy and strategy relating to the inclusion of disabled students in further education, not to mention the best online and distance learning infrastructure on the continent.'
A little-researched field
Regarding his research, Ongolo says that he found that little research has been conducted on policies guiding inclusive curriculum design in an ODeL. 'There is limited research in South Africa on the curriculum delivery strategies that can be used to facilitate online learning for students with disabilities,' he says. 'My study revealed that both academics and administrative staff lacked expertise in designing online inclusive curriculum. This is closely linked to policies that are insubstantial, cosmetic and pretentious, while the support departments tasked with disability issues are weak in driving relationship and communications with academic departments in steering curriculum inclusion.'
Based on his extensive research, Ongolo proposes an integrated approach to embed the design and delivery of an inclusive curriculum at an ODeL university. 'Amongst other things,' he says, 'this approach entails policy awareness to mainstream the needs of disabled students, rejuvenate disability units to be more responsive to student needs for efficiency, effectiveness and wider outreach, prioritise developing systems for non-compliant management for academics who do not design inclusive curriculum, and continuous training on how to use inclusive and universal design approaches. The study makes a valuable contribution by proposing an inclusive framework for open distance e-learning contexts.'
Support is there for the asking
Contemplating the future, Ongolo says that he hopes his research will create more opportunities for dialogue between support units and academics, which will ultimately result in more students with disabilities enrolling for PhDs. 'This,' he says, ' is also central to the way in which Unisa is shaping futures. Unisa plays a pivotal role in terms of giving people with disabilities who have been excluded from education a chance. The university packages programmes that are flexible and can be undertaken at students' own pace. And the great thing is that support is not specific to one impairment group.'
In conclusion, Ongolo urges students with disabilities to make use of the university's extensive arsenal of support services and structures. 'To get the necessary support, you really just have to ask,' he says.
In completing his doctorate Dr Ongolo made extensive use of the support provided by Unisa's Advocacy and Resource Centre for Students with Disabilities (ARCSWiD). In line with Unisa's strategy, the centre's mission is to create an enabling teaching and learning environment that will lead to the full participation and equalisation of opportunities for students with disabilities. Click here to learn more about ARCSWiD.
* Interview by Kgaugelo Pule, article by Philip van der Merwe