About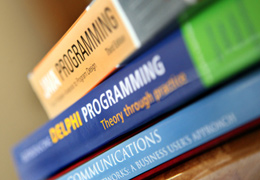 Tuition is one of Unisa's three core areas of business.
We offer a combination of career-oriented courses (usually associated with universities of technology, whose programmes prepare students for the world of work), as well as generally formative academic programmes (typically linked to a traditional university).Our rich tapestry of study disciplines includes the humanities, business and management, law and criminal justice, agriculture and environmental sciences, and science, engineering and technology.
The unparalleled range of study choices on offer, range from short courses and certificate programmes to three-and four-year degrees and diplomas. Postgraduate studies are offered up to doctoral level.
Unisa follows an open distance learning (ODL) model of teaching, which represents an approach that combines the following principles:
Learner-centredness
Lifelong learning
Flexibility of learning facilitation provisioning
Removal of barriers to access
Recognition of prior learning
Provision of relevant learner support
Construction of learning programmes
Learning involves the use of blended techniques such as integrated and mixed media, and courseware with various modalities for learning development, facilitation and support. Going forward, Unisa aims to harness the immense potential of information and communications technology to provide our students with an inherently online teaching and learning experience. Signature online courses have also been introduced. From 2013, any student starting a new undergraduate degree will be required to register for and successfully complete one compulsory online module per college.
As an ODL institution Unisa determines its own admission requirements, grants access to traditionally disadvantaged students, recognises prior experiential learning and promotes flexible learning in terms of its interactive learning material.
In an attempt to ensure that students are adequately prepared to successfully pursue and complete their studies, we have created new admission and re-admission policies, effective from 2013.
Last modified: Sun Oct 09 08:56:12 SAST 2016