The Unisa Virtual Race is gathering momentum. Organised by the Unisa Foundation, the event hopes to garner the support of university staff, students, alumni, donors, families, and friends to bring hope to approximately 150 000 Unisa students, some from disadvantaged backgrounds, who need laptops to study and write exams.
The virtual race was launched on 2 November 2020 and will run until 31 December 2020. It only costs R65 to take part, so what are you waiting for?
Two Unisa Foundation staff members share their experiences of the race as they help to define tomorrow.
Enjoying the Unisa Virtual Race from home
It has been a wonderful afternoon of trying to get our feet to follow the beat of the recent craze of the Jerusalema song. It was a good four minutes of trying to follow the rhythm and dance with my children, Nomuzi and Lwazi. They understand all too well that the dance was for fun but also that, in the long term, Unisa, my alma mater and place of work, is running an initiative to raise funds for student laptops.
Many of our students are without the devices which are required to help them study and write exams from the comfort of their homes. I have a device. My children have devices. What about those that don't and are in much greater need to study and create a future for themselves? It is only R65 to participate in the Unisa Virtual Race to help define tomorrow.
Busisiwe Mahlangu, employee and alumnus of Unisa, Pretoria
Walking amongst the "place of reeds" for student devices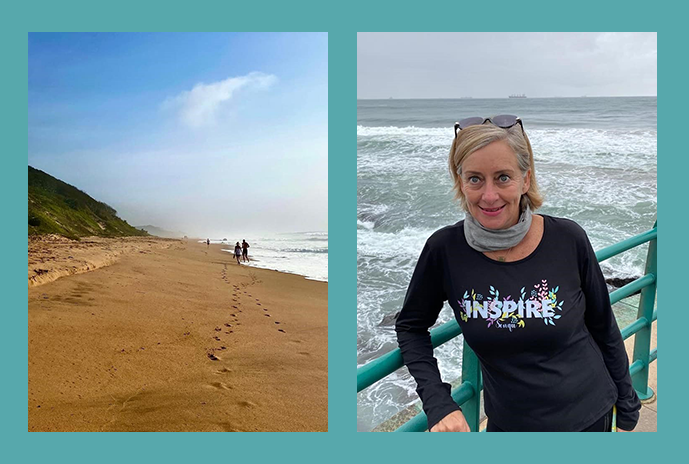 I recently did a five-km Unisa Virtual Race Walk on the Umhlanga Beachfront, where joggers and walkers abound—a truly beautiful setting for early morning walks. People often stop and count the number of ships in the distance waiting their turn to enter the harbour. The promenade at Umhlanga is exactly 2,5 km long, so back and forth makes it 5 km in total.
Lynette van Niekerk, proudly Unisan