Unisa's Accelerated Online Postgraduate Support Programme in the College of Graduate Studies is proud to have launched the WhatsApp Open Online Course (WOOC) on 26 October 2020 for all Unisa postgraduate students and staff members. This exciting new offering is in partnership with Facebook and Digify Africa.
The Accelerated Online Postgraduate Support Programme aims to improve postgraduate students' academic and research skills while they study. Understanding that the journey for any student does not end there, the programme focuses on students' graduateness. "We send our students into the digital world where they should know how to market their acquired skillcsets on social platforms. This is the new 'golf course' of business—the place where contacts are made and deals are struck."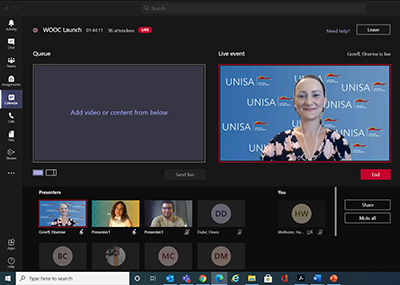 Prof Elnerine Greeff (Operational Support: Accelerated Online Postgraduate Support Programme) at the launch of the WOOC
Professor Elnerine Greeff, the Operational Support for the Accelerated Online Postgraduate Support Programme, enlightened the audience about how the Unisa/Facebook WOOC offering is there to ensure Unisa's postgraduate students are successful in the business world by helping them to get or create that dream job. The WOOC will prepare students to be a certified Facebook Marketing Associate by giving them access to rich course content, quizzes, mentors, and study groups. It provides quality learning without using much data and it is on students' own terms and in their own time. This speaks to Unisa's open distance e-learning (ODeL) mandate.
Practising what it preaches, the WOOC delivers an educational offering completely online through the social media platform WhatsApp. This is a ground-breaking way to deliver educational course content. Facebook Africa is blazing the trail here with the programme's students and academics investigating the pedagogical possibilities through an empirical research project.
Start learning here.
Visit our website for more info.