College of Human Sciences
Venue:

Main Campus, Muckleneuk Ridge, Pretoria, WMM Building, Floor 5: WMM 5-155 / 5-159

Event date:

23 - 31 August 2021

Time:

13:00:00 - 16:00:00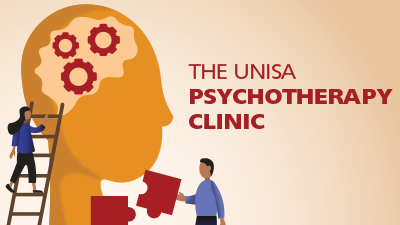 Our services include psychotherapy and assessment in the following areas:
Child therapy
Individual therapy
Couple therapy
Family and group therapy
You are welcome to contact us if you or someone that you know needs our services.
CONTACT DETAILS:
Dr Nikki Themistocleous (Ph.D.):
Master's in Clinical Psychology Programme Coordinator
Department of Psychology
E-mail: themin@unisa.ac.za
CELL (SMS): 079 724 3591
Due to Covid-19, the clinic was closed during 2020, however, we have re-opened the clinic and welcome face-to-face appointments. The following Covid-19 protocols are in place:
Screening at the main entrance before entering campus.
Clinics have foot pedal hand sanitizers for clients, students and staff.
Clinics have a no touch thermometer to screen temperature.
Social distancing protocols are in place.
Students, staff and clients are always to wear face masks.