In 2019, Unisa's School of Computing in the College of Science, Engineering and Technology (CSET) hosted the 48th Annual Conference of the Southern African Computer Lecturers' Association. The conference theme was Computing Matters of Course!

In line with this theme, the organising committee invited national and international submissions that focused on practical experiences and successes in computing education at tertiary level, in the following topic areas:
Classroom innovation and assessment of the impact thereof
Novel tools developed, or novel use of existing tools, for learning and/or assessment
Research undertaken to investigate aspects of computing education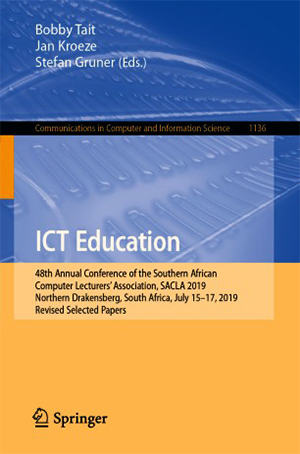 Selected full papers were published in a Springer Communications in Computer and Information Science (CCIS) volume. CCIS is abstracted/indexed in DBLP, Google Scholar, EI-Compendex, Mathematical Reviews, SCImago and Scopus.
This publication has recently been recognised by Springer Nature as among the top used publications on SpringerLink related to Quality Education, which is United Nations sustainable development goal (SDG) #4. As such, the book is helping solve some of the global challenges transforming the world.
This recognition not only points at a successful conference with relevant topics, but also at the excellent work done by the co-programme chairs, professors Jan Kroeze and Bobby Tait from the School of Computing, who made sure that the review process was of the highest standard as co-editors of the publication, together with Prof Stefan Gruner from the University of Pretoria.
There have been 2 622 chapter downloads for the eBook on SpringerLink from January to September 2020. An attention score of 1 is an indicator that the publication is garnering interest on Altmetric, a system that tracks the attention that research outputs such as scholarly articles and data sets receive online. It pulls data, amongst others, from social media such as Twitter and Facebook, as well as traditional media.
* By Mac van der Merwe, Professor, School of Computing, and 2019 SACLA Conference Chair
Gruner, Stefan & Tait, Bobby & Kroeze, Jan & (eds.),. (2019). ICT Education: 48th Annual Conference of the Southern African Computer Lecturers' Association, SACLA 2019, Northern Drakensberg, South Africa, July 15–17, 2019, Revised Selected Papers. 10.1007/978-3-030-35629-3.