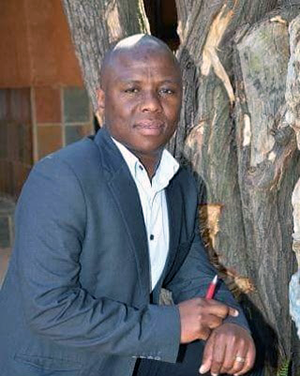 Whose interest does it serve? A Confucian community engagement is the title of the new article published in the South African Journal of Higher Education by Makabongwe Khanyile, Deputy Director of Marketing at Unisa and a PhD student at the University of Cape Town. Khanyile has been publishing one or two articles every year since 2016 in accredited journals and conference proceedings, and he has been presenting, locally and overseas, at various international conferences, including at the Fort Hare University Centenary conference. He has chaired various conference sessions and served as rapporteur in others.
Last year, Khanyile published an article titled Does a 'kingmaker' usurp the electorate power? A South African perspective in the Journal of Public Administration. Among other titles of his publications are Essentiality of stakeholder management for university survival and Application of stakeholder management for business sustainability in the higher education sector.
When asked about his research interests, he beamingly said: "I am not Steve Biko, but I write what I like. I express my views or research subjects of interest at the time. However, to answer your question directly, my research interests straddle across higher education, stakeholder management, marketing, leadership, and governance." I am exercising academic freedom, he added.
When asked about what inspires him to write, Khanyile responded: "Dr Myles Munro talks about 'generational thieves' and Chinua Achebe says that until lions have their historians, the history of the hunt will always glorify the hunters. I am beginning the journey of sharing and expressing my views on subjects through writing—to tell a story—not to be spoken on behalf of," he continued.
Khanyile says "those of us in the interfaith are forgiven for quoting either the Bible or Quran. Surah (23:115) in the Quran, Almighty Allah asks 'Deemed ye then that we have created you for naught, and then ye will not be returned to us?' I must admit that I am not an academic but do not want to envelope myself in what I am substantively employed to do, and therefore think I should participate in the 'voyage of discovery' and also assist the university in generating income from publications in my little way," he added. He argues that we have got to do everything possible to help sustain the university for future generations.
When asked about how he feels about his publications, Khanyile said: "In an interview, Achille Mbembe stated that 'writing is like a trial with too many judges. If one doesn't wish to be condemned, one shouldn't write. Because once you've written and published something, that's it. The door is locked, and the key is taken away. Writing is like pronouncing a sentence on oneself'." I need to exorcise the demons of fear about how I would be judged, he added.
"Therefore, I am subjecting myself to condemnation and criticisms that should potentially shape myself—and, besides, this has presented opportunities to get invited to present my views or get the freedom to 'spew venom' on certain subjects," says Khanyile. He further quotes Professor Sabelo Ndlovu-Gatsheni, Director of Scholarship Change, Department of Leadership and Transformation, that 'to publish is to reveal oneself to the world'.
Khanyile is no less polemic in his writings. He has published articles like Are supervisors 'free-riders'? An ethics perspective and, during the fallism epoch, he presented and published a paper titled University leadership at the edge of chaos: A South African perspective. Last year at the international conference in Mpumalanga University, he presented a paper titled Agrizzed, Agrizziphilia, Agrizziphobia: A harm to economy and society? He has also presented at international conferences papers like McDonaldisation and marketisation in education: Shifting goal posts to realization of economic freedom and Power struggle: A complexity perspective in local government. He was set to present a paper titled When the board or council descends to operations? at the Conference on Management Leadership and Governance this year, but because of Covid-19, he could not.
Khanyile said it is unfortunate, though, that his publications do not contribute to any promotion or increase on percentile. "One could state without any fear of retribution that this is unfair for all non-academic staff members because, for academics, it contributes immensely to their ad hominem promotions. And if they don't publish, they would perish, as publishing is their currency." He argues that this has inimical effects on piquing non-academic staff interests. "However, we shall overcome and continue under such a situation for the better good," he concluded.