Times Higher Education (THE) has announced the result of its authoritative THE Emerging Economies University Rankings 2022, which includes institutions in countries or regions classified by the London Stock Exchange's FTSE Group as "Advanced Emerging", "Secondary Emerging" or "Frontier". Major countries in this group include mainland China, Russia, India and Pakistan.
Unisa is one of only eleven South African universities to make the THE Emerging Economies University Rankings 2022. It features in the segment 201–250, up from the 251–300 segment in 2021.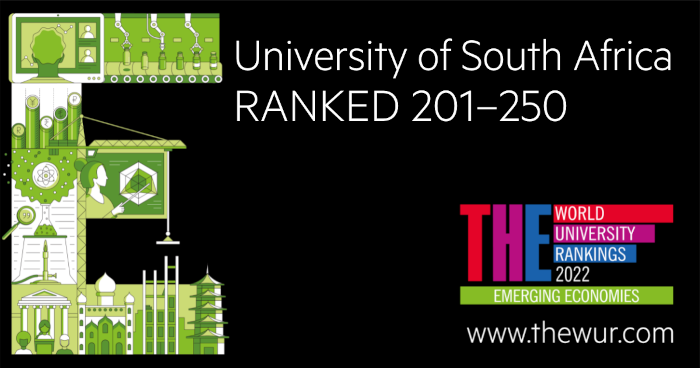 Since taking over the reigns at Unisa in January 2021, Professor Puleng LenkaBula, Principal and Vice-Chancellor, has introduced a number of interventions that have yielded multiple improvements. One of these saw compliance with the Department of Higher Education and Training's enrolment management agreement with the institution for the first time in six years.
"Given that a record 698 universities from 50 countries and regions were evaluated, the university is proud of its ranking and its significant upward movement compared to 2021," said LenkaBula. "It is significant that the Emerging Economies UniversityRankings uses the same performance indicators as the Times Higher Education World University Rankings, measuring teaching, research, research impact, industry income and international outlook. This is a clear indication that Unisa is on the right path as an engaged university practising engaged scholarship of undeniable quality as measured against global standards."
Commenting on the rankings, Phil Baty, THE's Chief Knowledge Officer, had this to say: "After what has been an extremely challenging 18 months for many, I'm confident universities from emerging economies have the strength and quality to adapt to a new, hybrid way of teaching and learning. I'm looking forward to seeing how their higher education systems prosper from the opportunities that arise, both internally and on an international scale."
*By Philip van der Merwe, Editor, Department of Institutional Advancement