News & Media
The Ethiopia Regional Centre is proud to announce an increase in successful completion of PhD qualifications across Unisa's colleges.
Based on data obtained on 12 November 2020, the number of graduates at the Ethiopia Centre this year reached 74. Fifty-six of the graduates completed PhD programmes, ten earned master's degrees, and the rest obtained honours and bachelor degrees. Twenty-nine of the doctoral graduates are university academics, whose studies were sponsored by the Ethiopian Ministry of Science and Higher Education (MOSHE). As the year is not over, the number of graduates is expected to increase slightly.

Unisa's total Ethiopia graduation figure has reached 825, with 41% and 42% completing doctoral and master's degree programmes, respectively. The number of MOSHE-sponsored graduates has also increased to 216, with the majority being PhD graduates.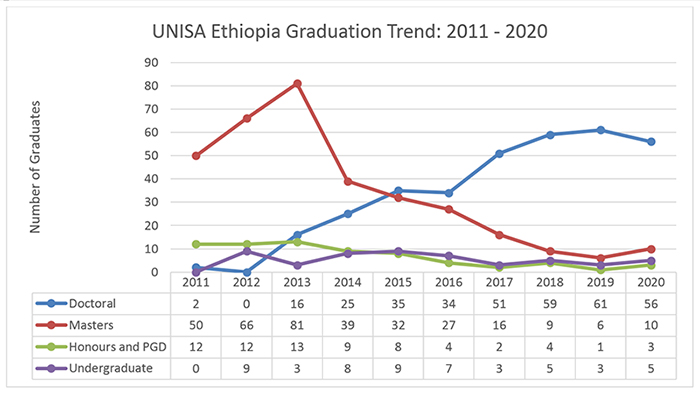 The trend of graduations, from 2011 to 2020, shows that the number of doctoral graduates has been increasing and this cohort currently accounts for a lion's share of the number of graduates. In contrast, the number of master's, honours and undergraduate programme graduates has been steadily decreasing. The trend is clearly as a consequence of the focus on doctoral programmes by the centre.
The number of graduates that Unisa is producing at its Ethiopia Centre is a manifestation of its expanding footprint in this country in the Horn of Africa. It is also a precursor to its envisaged expansion to the Horn of Africa / East Africa region.
* By Meseret Tefera, Deputy Director, Ethiopia Regional Centre