Unisa has partnered with Topco Media to present the 18th annual Standard Bank Top Women Conference, taking place on 6 and 7 October 2021. The conference will bring together global thought leaders and experts to offer inspiration, practical solutions, networks and support to 10 000 women entrepreneurs in Africa – giving them the tools and knowledge to navigate the impact of Covid-19 on the global economy and to help drive growth and trade in Africa.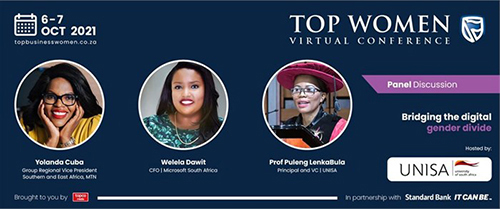 The two-day virtual event offers public and private sector tailored solutions, allowing delegates to engage in brave conversations and learn from industry pioneers. Unisa's collaboration as a partner is aligned with the transformation agenda of the institution, which has seen many women appointed in strategic positions at the university.
Prof Puleng LenkaBula, the first womxn, the first black womxn and only the third black person to be appointed as the head of Unisa in its more than 147 years of existence, will also join the conference as a panellist. As an advocate for women's rights, she has spoken decisively about normative practices which find males as preferable candidates to lead institutions. While she believes there's nothing wrong with male leaders, she has stated that "there's something wrong if the leadership is fully and wholly masculine. The diversities of leadership are always important as they enable institutions to focus on various issues."
The partnership underscores Unisa's commitment to serve as a vehicle for social transformation, while the Vice-Chancellor's participation positions the university towards her vision of ensuring that Unisa does not only become a centre of academic excellence, success and opportunities for the marginalised, but also a lever of optimum and impactful participation in society and the global knowledge arena.
* By Tshimangadzo Mphaphuli, Senior Journalist, Department of Institutional Advancement