Old Unisan Hennie Lochner has turned his doctoral thesis into a book that is sure to appeal to professional crook catchers and armchair detectives alike.
Transito: The truth behind the big money robberies, authored by Lochner with Peet van Staden, and published by Unisa Press in July 2020, draws on his DLitt et Phil research in Die gebruik van modus operandi-inligting van gevonnisde kontant-in-transito-rowers in die ondersoek van kontant-in-transito-rowe (The use of modus operandi-information obtained from incarcerated cash-in-transit offenders in the investigation of cash-in-transit robberies). Lochner received his doctoral degree from Unisa on 20 June 2016 when he was in the Department of Police Practice.
Propelled by excessive greed, cash-in-transit (CIT) robberies are executed ruthlessly with no respect for human life. The book reveals the patience of the robbers in doing surveillance, intelligence work and knowing how much money is being transported as they do not make the effort of attacking for too little moolah. The authors expose how CIT robbers meticulously plan and execute their ambushes, collaborating with a sophisticated network of accomplices. These include police informers, insiders who work for the CIT companies, professional car thieves, cell phone technicians, suppliers of illegal ammunition like the AK47, and sangomas, among others.
It also emerges that CIT robbers are afraid of sophisticated technology like DNA for evidence in court, helicopters which can easily locate where they are as well, as the high level of training of the CIT security officers.
The revelations in this book are critical for CIT companies, financial services industries, and the criminal justice system alike. The book will assist the stakeholders to circumvent the stratagems of these robbers and mete out punishment proportional to the crime.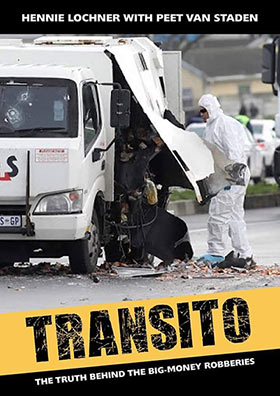 Book title: Transito: The truth behind the big money robberies
Author: Hennie Lochner with Peet van Staden
Price: South Africa: R200 (incl VAT)
E-mail: unisa-press@unisa.ac.za
Website: www.unisa.ac.za/press
* By Dimakatso Malema, Marketing Officer, Unisa Press