Support for postgraduates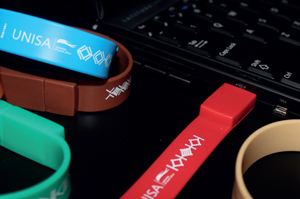 Unisa is a leading provider of postgraduate programmes in Africa. To assist and support postgraduate students and researchers, a dedicated college, the College of Graduate Studies, was established. The college does not offer graduate programmes but provides a range of research training programmes and enrichment activities. It provides a virtual research platform for postgraduate students in all colleges, thus promoting and facilitating inter- and multi-disciplinary research.
Student exchange programmes and international opportunities
International student exchange programmes connect students with their counterparts in other parts of the world and expose them to different academic and cultural environments. Such programmes offer outstanding learning opportunities and life-changing experiences. Unisa also endeavours to expose its students to international academia when the opportunity arises.
The annual Gandhi Inspired Student Exchange Programme is an on-going collaboration between Unisa and the University of Mumbai. The programme is an academic and cultural enriching experience, affording students the opportunity to learn from one another and discover more about one another's culture.
In 2014 Unisa students participated in the two-week Shanghai Open University International Student Exchange Programme, forming part of a group of 40 students from around the world.
The programme introduced participating students to, among others, Chinese culture, history and language, and the Shanghai Open University's distance education system.
In 2015, 19 Unisa students represented both South Africa and Africa at the Savitribai Phule Pune University AVISHKAR competition. This was the first time the interuniversity research project competition for undergraduate, postgraduate and doctoral students, the AVISHKAR, had participants from outside India.
Promoting research excellence
With a view to promoting research excellence at Unisa, the university has various support programmes aimed at developing talent within the university and assisting staff to improve their qualifications. Close to R52 million was invested to strengthen research capacity through various initiatives. These include programmes to build capacity among identified target groups such as young and emerging researchers and women, most notably the Emerging Researcher Support Programme and the Women-in-Research Support Programme. Other significant initiatives include the Postdoctoral Fellowship Research Support Programme and the Unisa Research Chairs. With the help of these programmes, we as a collective can define tomorrow.
Research platforms for both seasoned and budding researchers
The annual Research and Innovation Week is a highlight on the Unisa calendar. The event provides a platform for everybody involved in research at Unisa to interact with one another, but also with their international peers. Existing knowledge is enriched at one level, while at another individuals are inspired to create new knowledge.
Talks by internationally renowned researchers, discipline-specific papers and practical advice form part of this event. It culminates in the Research and Innovation Gala Dinner where research excellence is celebrated and recognition given to Unisa's top researchers.
The annual Student Research and Innovation Showcase is a joint initiative of the Research and Innovation portfolio and the National Student Representative Council. The showcase creates greater awareness among students of the importance of research and innovation as tools for socio-economic growth and development. It comprises of oral and poster presentations, exhibitions, interesting talks and an award ceremony. Showcase winners receive the opportunity to participate in the Gandhi Inspired Student Exchange Programme.